Purchase of a shelf company in Serbia – from 4,400 EUR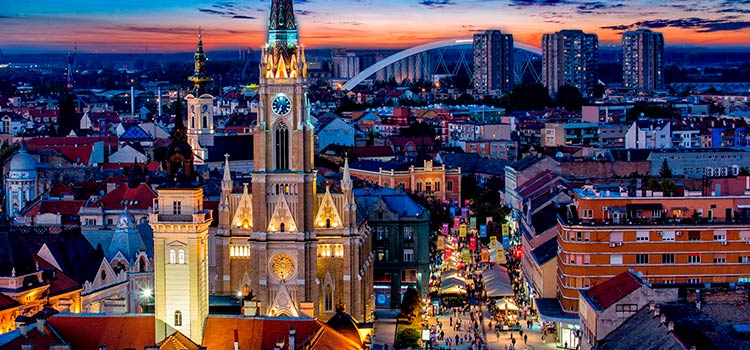 You can buy a ready-made company in Serbia on a personal visit to the country or from home. The company can come with or without a bank account. Below we will tell you why you should consider this opportunity and describe the procedure of purchasing a shelf company in this Balkan country.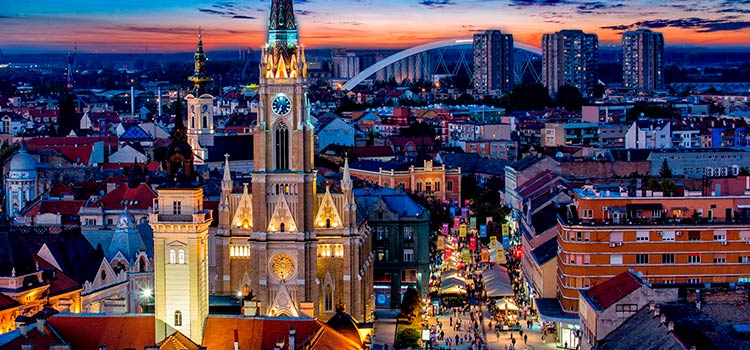 Advantages of establishing a business company in Serbia
A foreign entrepreneur will receive the following benefits when opening a company in Serbia:
The possibility to purchase a ready-made company and start doing business within a couple of days;
The possibility to conduct duty-free trade in the markets with the population of over 1.1 billion people;
The possibility to set up a corporate bank account in Serbia or even buy a shelf company that already has a bank account;
The company maintenance costs start at 200 euros per month in the country;
The company owner is entitled to apply for a permanent residence permit and later acquire full citizenship of Serbia;
The low costs of electricity, natural gas, and other utilities make Serbia a perfect location for your business especially if you are planning to engage in some production activities;
The corporate tax is Serbia is 15% and the dividend tax is the same.
Banks in Serbia are highly reliable and have vast experience in business financing including trade and production areas. In addition to that, all deposits in Serbian banks are insured for up to 50,000 euros. Thus, the depositor will be compensated even if the bank goes bankrupt.
Please bear in mind that Serbian banks as well as many other foreign banks are more willing to provide services to legal residents of Serbia rather than foreigners. When purchasing a company in the country, you become eligible for Serbian residency. Acquiring this status will greatly facilitate your cooperation with the local banks.
Purchase a ready-made company in Serbia: the most popular form of ownership
The most widespread company ownership type in Serbia is the limited liability company (abbreviated as DOO in Serbian). This is the type of company you can easily buy ready-made.
However, if you would like to purchase a joint stock company in Serbia or one with some other form of ownership, it is also possible. Please request additional information at info@offshore-pro.info.
The DOO charter capital can be as small as 1 euro. Both physical and legal entities can act as the company constitutors. A single person can establish the company and appoint him or herself as the sole company director. The company owners and directors can be legal residents of Serbia or foreign nationals. The flexibility in company formation and management is truly superb in Serbia.
Serbia has signed over fifty agreements with other national states on avoidance of double taxation.
The laws of the country require that any business company have a registered legal address. Besides, keeping financial records is also mandatory.
The rent of legal address starts at 100 euros per month in the country. The cost of the accounting services will depend on the amount of work but the starting price is also 100 euros per month.
A company registered in Serbia can set up a corporate account with a Serbian bank, a foreign bank, or a payment system.
You can visit Serbia in order to register the ready-made company in your name. However, the trip will be unnecessary if you issue a power of attorney, which will allow us to register a company in your name in your absence.
As soon as you cover the cost of our services, you will have access to your company and thus you can start doing business in Serbia, in Europe, or anywhere else in the world.
You will have one month to submit the new company ownership data to the Serbian Company Registry. During this month, we will provide fiduciary company maintenance services to you.
If you are unable to submit the new data within one month, or if you want to continue using our fiduciary maintenance services, their cost will be 1% of the incoming payments but not less than 3,000 euros per year.
The service that we are offering here does not include opening of a bank account for the company but we are ready to assist you in setting one up.
You can read more about purchasing a ready-made company with a bank account in Serbia by following this link.
Documents required for purchasing a ready-made company in Serbia
When buying a shelf company in Serbia, you will have to supply the following documents:
A passport copy of the prospective company owner;
A copy of the document certifying the company owner's current residential address (such as a utility bill, for instance);
If the Serbian company is going to be registered in the name of a legal entity, an apostilled package of corporate documents is required.
We will carefully check your application documents, have them translated into the Serbian language, and submit them to the Serbian Registrar. The processing of the documents usually takes from one to two weeks.
If you wish to open a bank account in Serbia as well, an additional package of personal and corporate documents will be required.
In order to comply with the Serbian legislation you will also have to provide for the following:
An electronic accounting form and an activated electronic signature;
An agreement with the accountant that will keep the books for you;
A rent agreement for the company legal address.
You can take care of these matters yourself or hire professionals to do it for you. We provide the full range of company maintenance services including the rent of legal address, accounting support, and many other things.
The costs of purchasing and maintaining a company in Serbia
The price of a shelf company in Serbia is 4,400 EUR. This price includes:
Purchase of the company proper;
One month of fiduciary company maintenance services;
Assistance in document preparation and registration of the Serbian company in your name.
You can also buy a ready-made company in Serbia that already has a bank account. In this case, the price is going to be 9,250 euros.
It is also possible to purchase the company without travelling to Serbia. A power of attorney has to be issued in this case.
Some additional costs that you will have to incur include translation of the documents into Serbian at 20 euros per page. If you wish to visit Serbia, you will also have to cover the cost of the trip.
The company maintenance costs are nearly negligible in Serbia. There is no annual company registration extension fee in the country. The costs that you cannot possibly avoid include the rent of the legal address and accounting services. However, together they can come at 200 euros per month only.
We also offer concierge services that allow solving a number of company maintenance tasks with one service package. You can choose from three available concierge service packages. Please see the table below.
Concierge Services
Basic

250 EUR per month

Medium

450 EUR per month

VIP

900 EUR per month

Company legal address
V
V
V
Original documents storage, archive, scanning of the incoming mail, communication with the accountant (up to 5 e-mails or phone calls per month)
V
V
V
Interaction with tax authorities, state agencies, and banks
V

(up to five contacts per month)

V
V

(unlimited assistance)

2 hours of consultations or legal services
V
V
2 hours of miscellaneous services
V
V
1 additional hour of consultations
V
3 hours for simple tasks
V
Transportation in the city for 2 days
V
Airport – city – airport transfer
V
You do not have to buy the concierge services that we offer. However, if you find that you need some of them later, when the company has already been registered in your name, you will have to pay for these services at an hourly rate of 220 euros.
How to purchase a shelf company in Serbia: the procedure
Please request this service by writing to us to info@offshore-pro.info.
Provide your personal data so that we can draw up a contract. Decide on the type of company that you want. Also decide if you need a corporate bank account.
You can reserve the company you like by paying 1,000 euros flat and covering the rest of the service cost within seven days. You can also pay the whole sum of 4,400 EUR straight away.
Supply all the required documents to us. As soon as we receive the documents and the payment, we will start reregistering the company in your name.
Within one month since the company registration, you have to visit Serbia in order to submit the new ownership data to the Registrar. Otherwise, you can issue a power of attorney to us and thus perform this task without leaving home. If you are unable to do either of these two things within a month, you will have to extend the fiduciary company maintenance service.
You can start doing business with your new Serbian company at the moment you become its rightful owner. You are also welcome to apply for our assistance in setting up a corporate bank account for your company in Serbia.
If you would like to ask us any questions, please do not hesitate to contact us via e-mail info@offshore-pro.info. We will provide swift and exhaustive replies.
Tags
#Company Registration in Serbia
You are welcome to review other interesting articles on serbiawealth.info: