Legal Residence in Serbia
Are you looking for a European Residence Permit? A way to combine business benefits with personal pleasure? Why not consider Serbia?
The easiest, fastest and cheapest way to obtain a European Residence Permit is right here in business-friendly Serbia!
This page explains how you can easily obtain a Serbian Residence permit sticker in your passport in as little as one month! Serbia is recognized as one of the fastest growing destinations when it comes to foreign individual investors overall.
Scroll down to see our flow chart detailing the residence application process.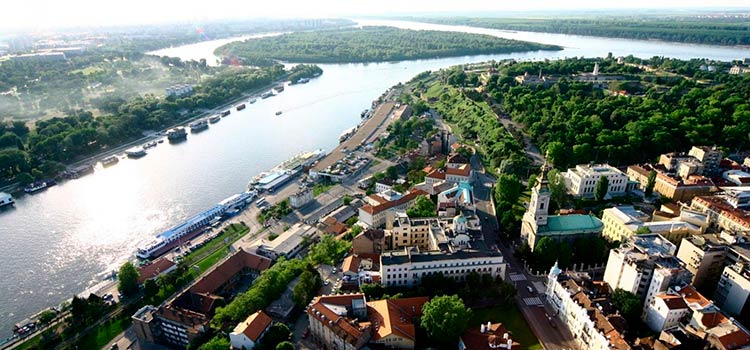 How to apply for Serbian residency for foreign entrepreneurs
Serbia today is a superb base for online traders, consultants, digital nomads and international entrepreneurs. You can maintain a pied-a-terre, a local company or branch to manage your billing and investments, and a multi-currency Serbian bank account all at low cost. Serbia is a country where the "right to left alone" is still respected – but if you want to socialise, you have legendary nightlife comparable to Ibiza and friendly people! You choose!
In case you don't have time to read this whole article, here are the key takeaways about residence in Serbia that we will be discussing in more detail below:
Learn the exact step by step process for obtaining Residency in Serbia
Serbia in principle grants Residence Permits to all foreigners without discrimination
One of the easiest ways to qualify for Serbian Residence is to form a Serbian company, or a branch of your existing foreign or offshore company. There is no obligation to employ other people in the company.
You do not have to stay in Serbia during the residence process.
You will need an address/apartment in Serbia. We can help arrange this for you.
You must have at least 1500 EUR, preferably in cash, to deposit on a personal account in a Serbian bank.
Note: It is normally enough to come for two days to apply, then one day a few weeks later to pick up your residence permit. Your time as Client is valuable: We can arrange all documents for you in advance to make the most efficient use of your time.
Offshore Pro Group in Serbia
OP Group launched in Serbia in 2017, as a joint venture with a local consulting company. Why? Predominantly because it offers an attractive business base for our existing client base of international SMEs looking to do business in Europe, Russia and beyond.
In Serbia, your existing offshore company can register a local branch, access all the facilities of full service major international banks in multiple languages, and establish real substance at a much more accessible cost as compared to other major European capitals.
Belgrade is a very livable, cosmopolitan European city with friendly people, great restaurants and legendary nightlife, and easy flight connections all over Europe. Belgrade has been described as "a city that is both a place to unwind and to amp up" and "the city of food that never sleeps."
Belgrade Airport, 15 minutes from the city centre, is short hop by Turkish Airlines to Istanbul from where you can fly direct to almost anywhere – so it's ideal for nomads and perpetual travellers looking for a European base to fly in and out of.
Many nationalities can enter Serbia without a visa: for example it's the only major European country that is visa-free for Chinese citizens.
Residence and work permits in Serbia are relatively easy to obtain for citizens of most countries: there is no requirement, for example, for medical check-ups, birth certificates or police certificates.
It is enough simply to set up a local company or the branch of an offshore company. The tax system is favorable to foreigners and a tax-residence certificate can be issued easily on request by the Serbian tax authorities to anyone who has fiscal residence in Serbia.
We invite you to explore the rest of this website and we are sure you will find many other good reasons to choose Belgrade as your new international business base!
Serbia offers a clear legal process to obtain both Temporary and Permanent Residence Permits for all foreigners.
This is a general argument, as it is true for any country. If you have a business in Serbia, you study there, or you simply like living there, you do not want to extend your visa month after month and apply for temporary residence permits time after time. It is bothersome.
Besides, obtaining a residence permit in Serbia is relatively easy. It is legally regulated by the Serbian Law on Foreigners.
Step by Step Process for Business Residency in Serbia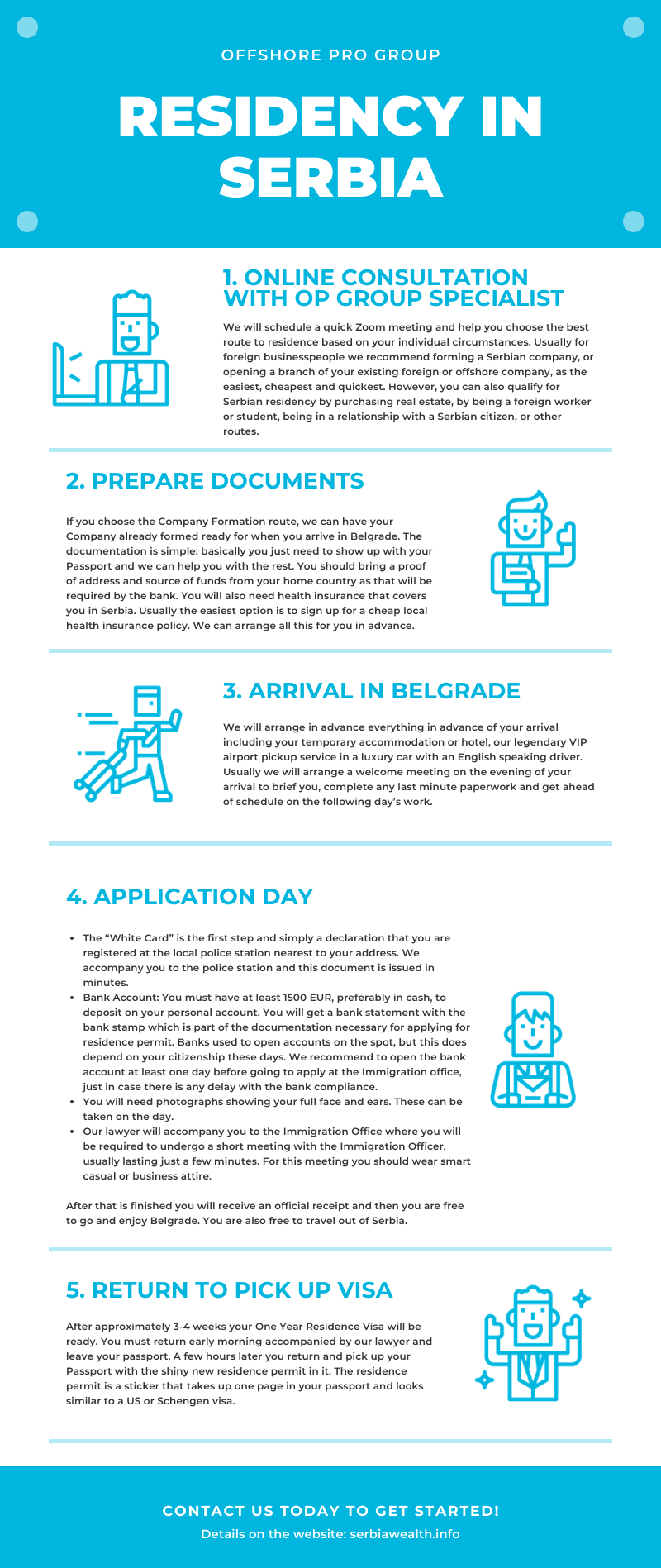 OP Group's friendly staff in Belgrade will walk you through this process in VIP concierge style from start to finish. Contact us today to get started!
Citizenship and Second Passport in Serbia
After holding a legal residence permit for some years, you can acquire Serbian citizenship. The exact number of years depends on the type of residence permit and the types of investment you have made into the Serbian economy. See our article on Serbian Citizenship and Passport for further information, or talk to one of our Serbian immigration lawyers. You can also find out about whether Citizenship by Investment in Serbia is possible, by reading our article on Serbia Citizenship and Second Passports.
Serbian citizenship is a precious asset indeed – especially in light of the fact that Serbia is on track to become an EU member state in the future. Thus, by becoming an EU citizen you will be able to enjoy all the benefits that this status brings in terms of travel, business, and investment opportunities across Europe and beyond.
Work Permit in Serbia
If you would also like to obtain a work permit, the following documents will be required:
Your Serbian residence permit
A notarized copy of your university diploma or education certificate translated into Serbian
Your Serbian company registration certificate
Your résumé or CV.
The process of obtaining a work permit in Serbia can take anywhere from a few days to a few months. Your presence in the country during this period is not obligatory.
How to Get Started
In case you need any additional consultations, please do not hesitate to contact us via e-mail [email protected]. We will gladly answer all your questions.
What are the Advantages of Serbian Residency for Banking?
Serbian banks do work with non-residents but those are perceived as somewhat higher risk, just the way it happens in all other countries today. If you are a 'local guy', you will have much less trouble setting up a bank account. You will also have access to the full range of banking services.
Besides, Serbia does not automatically share its residents' financial information internationally. Therefore you will be exempt from any future exchange of fiscal information that might apply to non-resident accounts. Of course this does not necessarily exempt you from obligations you might have to declare your Serbian bank accounts in other countries, but it puts the ball in your court and allows you to retain greater control of this sensitive data.
How will Serbian Residence help me diversify risk?
If the proverbial s**t hits the fan in your home country, you will have a second string to your bow. It is good to be optimistic, of course, but it is wiser to be realistic. The modern world is insecure. Thus, having 'Plan B' in place is a good idea.
How often do I need to renew my Residency in Serbia?
Your Serbian Residence will need to be renewed every year for the first five years. After five years of residency you will generally qualify for Permanent Residency.
Will I acquire Tax Residency in Serbia?
It really depends if you want to or not! As a rule of thumb, a person who is resident in Serbia for immigration purposes, is considered by the Serbian tax authorities to be resident for tax purposes as well. Serbia's tax authority issues tax residency certificates to tax residents, which are valid under the double tax treaties Serbia has signed with other countries and can easily be certified with an apostille. Banks in Serbia do not report the accounts of Serbian residents to other countries.
There are certainly however specific circumstances where you could be considered resident for immigration purposes but not for tax, or vice versa. If you have specific requests in this regard please let us know so we can arrange a specialist legal consultation for you. Normally there is a fee for this service as it is a legal opinion.
Can I obtain a Driving License in Serbia?
It is quite difficult to obtain a driving license in Serbia. Unlike most European countries, that require resident permit holders to exchange their foreign driving license for a local one within a certain time after acquiring residence, in Serbia the opposite applies. Foreign residents are generally expected to drive with foreign licenses. If you want to obtain a Serbian license you must undertake medical, practical and written driving tests in Serbian language.
Do I need a Police Certificate or Foreign Criminal Records?
Serbia does not require a police certificate of criminal records to apply for residence. Also, foreigners with criminal convictions are not prohibited from applying for residence. However, Serbian police will of course carry out a background check as part of the residence application and may deny the application if they believe you represent a threat to national security. Serbia also generally extradites foreign citizens who are wanted in other countries. In other words: if you are a criminal, you are not welcome in Serbia!