Open a company in a Serbian Free Trade Zone
Establishing a company in one of the Free Economic Zones of Serbia means you could pay less in taxes as well as administrative fees and customs duties. You can open a fully-fledged Serbian company and benefit from the many incentives available to encourage you to set up in Free Zones in Serbia.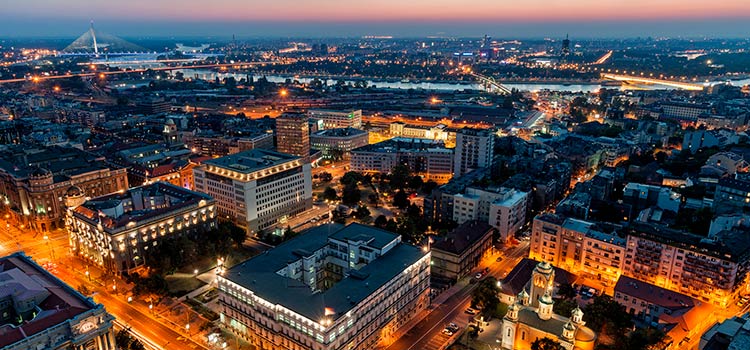 Serbian Free Economic Zones: what are these and how can you use them?
Free Economic Zones (FZ) in Serbia are specially designated areas where entrepreneurs can find favourable economic conditions. In other words, these are places where inflow of investment capital – both foreign and domestic – is stimulated by greater opportunities, tax, and other financial benefits.
Since 2012, over 2 billion euros has been invested in Serbian free zones. Why is all this smart money flowing in?
According to a Serbian government website on the topic, free zones represent "special parts of the territory of the Republic of Serbia, fenced and equipped with infrastructure with special benefits and incentives provided by the State. They are an important instrument of economic policy aimed at achieving economic growth and development of the country through increased influx of investments, growth of exports and employment and transfer of state-of-the art technologies."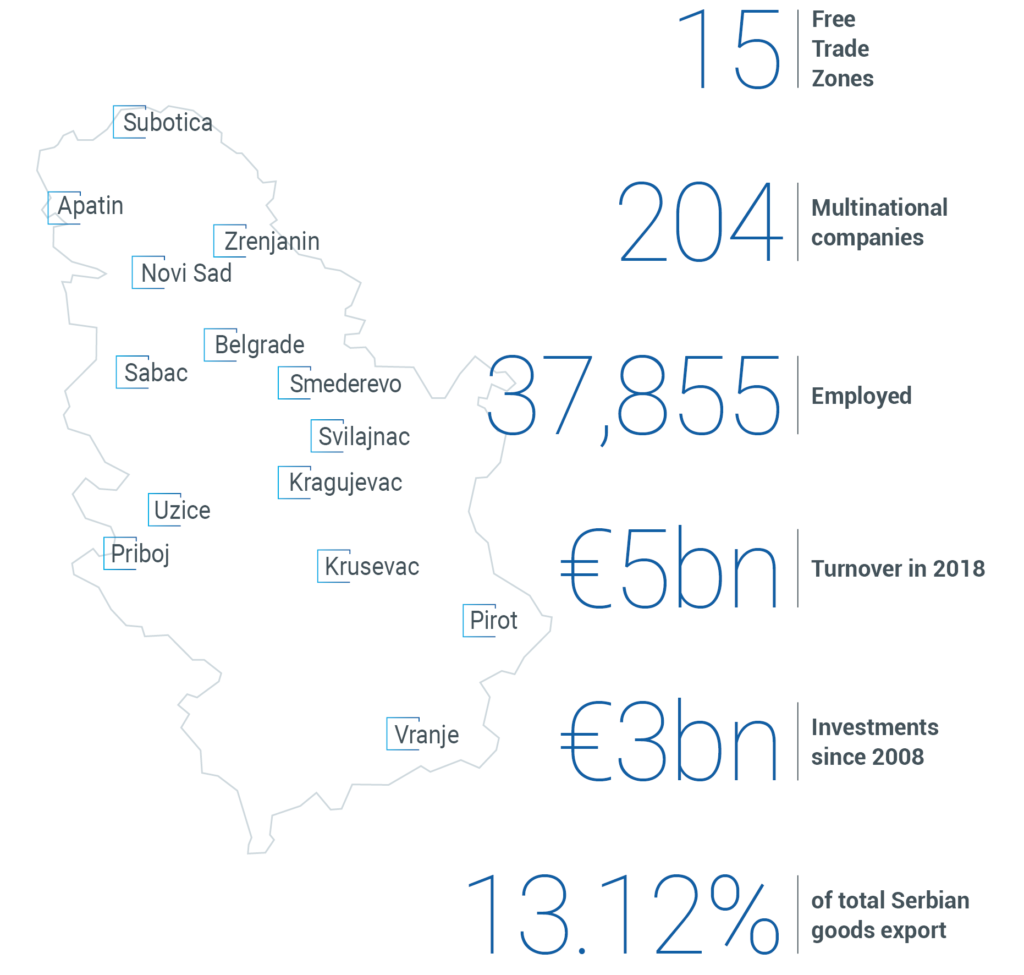 For example, FZ resident companies benefit from VAT exemptions. Besides, they are free from any import duties when they bring production machinery or raw materials to Serbia from abroad.
The Serbian authorities have come to fully realise the great potential of the FEZ's. Thus, they actively encourage business people to establish companies on their territories by providing beneficial conditions. The number of FEZ's in Serbia is constantly growing and currently there are 15 Free Economic Zones in the country in total:
Pirot;
Zreninjan;
Subotica;
Novi Sad;
Sabac;
Uzice;
Kragujevac;
Svilyanats;
Smederevo;
Krusevac;
Apatine;
Lies;
Surf;
Belgrade
Šumadija
As a rule, the FZ's are established and governed by the local authorities. They host both domestic and foreign companies. The cooperation between the state and the business enterprises allows all parties to achieve their goals. Entrepreneurs can engage in any kind of commercial or production activities within the Zones simultaneously acquiring substantial tax incentives and other advantages.
New jobs are created in the FZ's, projects carried out, goods produced, services provided… Shortly speaking, business is booming in Serbian Free Zones.
The FZ's in Serbia greatly contribute to strengthening the country's role as a liaison point between Eastern and European markets.
There is a great variety of economic activities that entrepreneurs can pursue in the FEZ's – from intermediary services and resale of goods to heavy machinery production and property construction. Over the recent years, the following business activities have been developing at an especially fast pace in Serbian FZ's: production, trade, storage and package, as well as banking and insurance services.
Our Services for Establishing Serbian Free Zone companies
As part of our range of consulting services for foreign investors coming to Serbia, our offices can assist with registration of companies and specific applications for free zone status. We can fast-track your introductions to government agencies responsible for economic development and free zone administrations, and introduce you to licensed lobbyists and representatives who can assist you in the process.
Simply put, you can come to us with an idea and we will see it through to fruition – the establishment of your successful company in a Serbian free zone.
The procedure of establishing a company in a Serbian Free Economic Zone
2
We will schedule a Zoom meeting or conference call with no obligation to understand your plans and requirements. Based on this meeting we will tell you if we can help you with your project, and if so we will advise on the next steps and the approximate costs involved.
Payments can be made by a bank transfer of with a credit card. Besides, you can use any payment services and means available to you such as Money Gram, Western Union, WebMoney, or Bitcoin.
If you would like to discuss Serbian Free Zones in more depth with an experienced consultant, please contact us via e-mail [email protected]. We will gladly answer your questions.