Serbia Bank Account: How to Open a personal or a corporate bank account in Serbia
"Open an offshore bank account". This search query will return thousands of responses, and Serbia will probably not be at the top of it. Serbia is not a traditional offshore banking jurisdiction.
Nonetheless in 2021 we can confidently say that Serbian banks have taken over a lot of international personal and commercial banking business from Austria, Switzerland, Cyprus, Latvia, Luxembourg and other countries that are better known as the traditional European offshore private banking havens. There is a good reason for this. In this article, we explore the reasons for Serbia's extraordinary success!
There is something everyone searching for an offshore bank account has in common anyway. They are all on the lookout for an optimal financial solution, the one that will turn out most lucrative for them personally or for their businesses.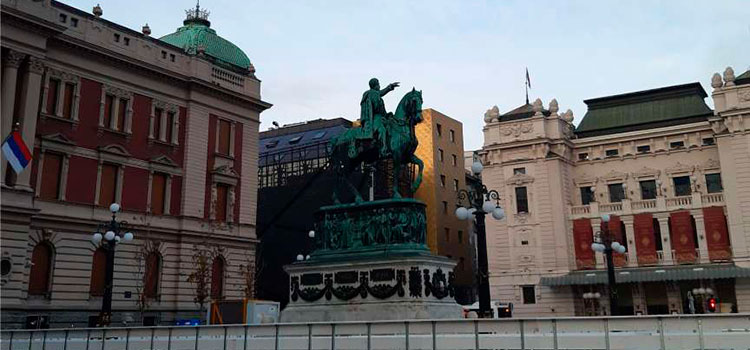 If you are among those people who ask this question, welcome! Below please find useful information about the banking sector in Serbia. We will tell you about the possibilities that you can find here in the heart of the Balkans in 2021: including accounts for Serbian companies, accounts for branches of offshore companies, and not forgetting personal resident and non-resident bank accounts in Serbia.
Serbian banking sector: advantages for international clients
So, what is so attractive for international clients about Serbia in terms of opening a bank account?
To begin with, we must say that this is not the only sector of economy that makes Serbia attractive for international businesses. As more and more foreign investments are flowing into the country, the banking sector's role is becoming ever more important.
Serbian financial institutions started from a strong base, with the largest financial institution in the region, Poštanska štedionica, celebrating its 100th birthday in 2021.
In recent years, the Serbian banking sector has come to be dominated by major international banking brands from Europe and beyond. And this is undoubtedly one of the secrets to Serbia's banking success: in uncertain times, clients look to open accounts with big, well-known international banks.
Serbia is one of the few places where a non-resident can in 2021:
open an account relatively easily
without a large sum of money
in a major brand bank
receive a multi-currency debit card (EUR, USD and RSD)
access sophisticated apps and internet banking
with much lower bank charges than competitors
find bank staff who speak English and most major languages (English, Russian, German, French, Spanish, Arabic, Chinese etc)
The range and the quality of banking services in Serbia are growing very fast. For the moment private banking is less developed, the focus having been on commercial banking and retail banking. This, however, is changing fast too.
Conclusion: Serbian banks are a serious challenge to the traditional banking sectors of "old" Europe. There are multiple factors that contribute to this state of affairs and their combination makes today's Serbian banks very competitive in the international market.
A personal non-resident bank account in Serbia
With the current political, pandemic and economic situation, you shouldn't ask yourself, "Should I open a bank account abroad?" but rather, "Where should I open an offshore bank account?" Serbia should definitely be on your list of possibilities.
A personal bank account in Serbia can give you access to a wide spectrum of banking services. Besides, if you are interested in it, you can also acquire professional consultations from best European financial advisors. They can help you plan your finances and optimize your financial flows, as well as suggest investment opportunities from both local and international markets.
You will have to pay a personal visit to Serbia in order to open a personal bank account here. We will gladly assist you with visiting the bank, filling out the forms and completing other necessary documents. Each case is different – there is no standard checklist, and no one bank that is best for all our clients.
But please rest assured: our experts have plenty of experience of opening non-resident accounts: we'll normally do a Zoom, phone or email consultation in advance to understand your wishes, needs and circumstances… after which we will recommend the best bank, set up an appointment and make your trip to Serbia a resounding success.
Is it possible to open bank accounts remotely or online? Not as yet, at least not for non-residents. (If you have Serbian residence other rules apply) In this case, the only option left would be to have a lawyer open an account for you with a power of attorney. This can be done, but is generally frowned upon by bank compliance departments so we only do this in very specific cases. If you specifically need such a service, consider setting up a Serbian Endowment instead that will provide a range of other benefits besides the bank account.
Documents required for opening a personal bank account in Serbia:
Passport
A document to serve as a proof of your residential address such as a residence card with an address on it, or a utility bill less than three months old.
"White card" – proof of your temporary address in Serbia. This can be issued by your hotel.
The cost of our assistance for opening a personal bank account in Serbia starts at 1200 EUR, depending on the risk level of the client. (For example, it is possible to open accounts for PEPs but the fee will be significantly higher due to the extra compliance work involved)
A personal account can be opened very quickly if all the documents are in good order. Your visit to the bank might only last one to two hours, but we recommend to allow 2-3 days in Serbia.
If you would like to set up a personal account in one of the Serbian banks, please contact our specialists at [email protected] for a detailed consultation on this matter.
Non-resident corporate bank account in Serbia
The current political campaign against offshore jurisdictions have made most European banks turn away perfectly respectable business from non-resident corporate clients and even close their existing accounts. Non-resident banking is going through a really hard time at the moment.
Fortunately, Serbia has two solutions to this problem.
Put yourself for a moment in the position of the bank compliance officer: if they provide services to an unreliable business they risk not only their reputations but their jobs as well!  For this reason, banks prefer to open corporate accounts via trusted intermediaries such as our company, for example. If you retain our services, we have to be honest and tell you straight away that the process is not easy… but nonetheless it will be much smoother than trying to do it yourself.
So, what are these two solutions:
Non-Resident Corporate Bank Account in Serbia.
This is something we don't recommend, because there is a better solution. Here is why.
Any Serbian bank is allowed to open an account for a non-resident company. A few short years ago, we used to do quite a lot of these. Then, the Serbian banking regulator sent out guidance to all the banks saying that accounts for non-resident companies are high risk. Therefore, most banks in practice no longer offer this service unless you are, let's say, Microsoft.
There is one small bank in Belgrade that does focus on offering these services. They told us they have a legal opinion stating that they can carry on non-resident business. We tried several times to work with them, but it never worked out.
2. Coming Soon
Documents required for opening a corporate bank account in Serbia:
An extract from the Company Registry with an apostilel that is less than three months old: the original and the translation into Serbian;
Certificate of Incumbency with an apostil that is less than three months old: the original and the translation into Serbian;
Certificate of Good Standing;
A notarized and apostilled Power of Attorney for opening a corporate bank account;
Company Charter, By-Laws, and other corporate documents and their translations into Serbian;
A description of the company economic activities, in Serbian;
Passport copies for all company beneficiaries and officers (owners and directors).
IMPORTANT: Some banks may have different lists of required documents. Some may also request additional documents.
Ongoing Compliance Matters
The second important thing to remember is that you have to maintain contact with the bank after the account is opened. This is imperative in Serbia in particular. The bank is going to use the first transactions that you make as indications of your reliability as a client. Thus, it is going to watch them with scrutiny and may well request confirmations of the legality of certain deals.
In case the bank administration is unable to reach you and ask you a question concerning this or that transaction, they will become alerted. They will put you on the list of suspicious clients and if lack of contact happens again, they can even close your account.
For this reason, we have introduced a new service recently. You can use our Belgrade office as a spare point of contact.  If the bank cannot reach you, they can always reach us because our back office is stationed very close. We will talk to them on your behalf thus preserving your good reputation with the bank. This service is free of charge for the first few transactions. Later on, you can keep it for a fixed pay or just stay available to the bank officers at all times.
Why has Serbia become more attractive for offshore banking?
First and foremost, let's define offshore banking. When you hear about offshore banking, you may have visions of palm-fringed Caribbean islands. However, offshore really just means "outside your home country." Therefore major financial centres like New York and London would be offshore to a German or a New Zealander for example – while New Zealand could be considered offshore to a Serb.
In answering this question, the first factor to note is the Serbian Government's efforts hard work and proactive policies in reforming the country's economy and the administrative system. The reforms have allowed financial services providers greater freedom and less administrative burden. Their positions have also been strengthened through the passage of several laws to encourage foreign investment.
These reform efforts have not gone unnoticed in the international community. Recently Fitch has raised the country's rating from BB to BB+ with a positive outlook. The stably low inflation rate does not escape the attention of economists either. The low inflation has allowed the Central Bank of Serbia to lower the base rate to 2.5%. All the leading world financial experts pay tribute to the economic progress and impressive achievements that Serbia is making these days.
Secondly, Serbia's close cooperation with the World Bank and the IMF has led to complete reformatting of the banking sphere in the country. Today it uses most effective transaction security technologies, it has well trained personnel, and it provides top-quality banking services.
IMF representatives also note the positive results that the structural reforms are bringing. At a November 2019 meeting between the Serbian Prime Minister and the IMF executive director, the parties agreed that these reforms must continue in Serbia.
This third factor may look rather strange in light of the economic boom that Serbia is experiencing. However, it remains true: the costs of company maintenance in Serbia are comparatively low. The taxes are lower than in many Western European countries, the rent prices are lower, the costs of electricity and other utilities are lower, and so on. This factor makes Serbian-produced goods and services – including banking – less expensive.
You are most welcome to ask questions and/ or clarify certain details by writing to [email protected]. Our experts will advise you on opening a personal and/ or a corporate bank account in Serbia and suggest the best options to you.