Remote company registration and a bank account opening in Serbia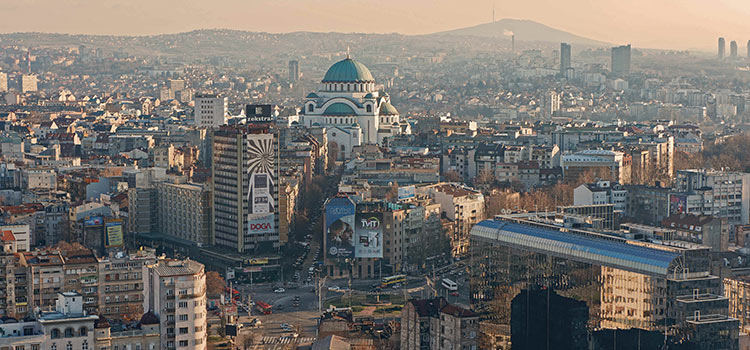 With our assistance, you can set up a business company in Serbia without visiting the country. What is more, a corporate bank account for your company can also be opened remotely. The company registration and the account opening procedures take between one and two months.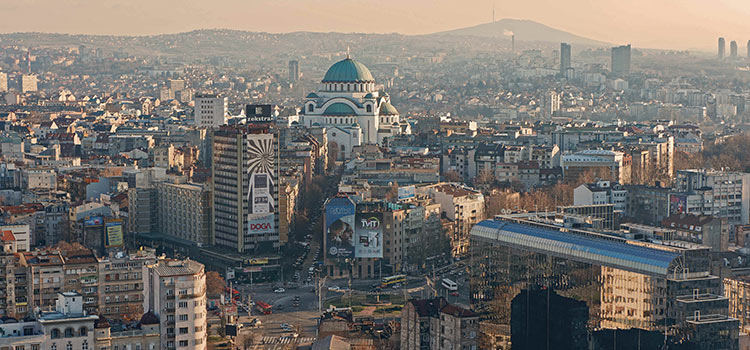 Establish a company in Serbia: why you should start a business in Serbia
According to The Financial Times, Serbia "has become a world leader in the amount of foreign investments". Of course, this is not in terms of the absolute figure but in relation to the number of the population and the size of the country.
In 2018 alone, 107 foreign investment projects were launched in Serbia. The leading industries in the county are motor vehicle manufacture, food processing and manufacture, tobacco and textile manufacture, and construction.
Today Serbia attracts more investments from abroad than do Singapore, Great Britain, the UAE, Hungary, or Poland. All other Balkan states taken together see less foreign investments coming than Serbia does!
Large Chinese, Italian, Russian, and American business corporations are putting money into the development of Serbian economy. Chinese companies in particular are building a highway in Serbia to be part of the "One Belt, One Road" project. In addition to that, the Chinese intend to build a subway in Belgrade.
Nevertheless, the European Union remains the largest investor in Serbia even though the EU is growing jealous of China's progress in the country.
The Serbian economy is on the rise and the consumer purchasing power is growing. At the same time, it is still profitable to export goods manufactured in Serbia.
Why do investors feel attracted to this relatively small landlocked Balkan state?
Serbia offers the following opportunities to international entrepreneurs:
A foreign national has the right to establish a business company in Serbia, moreover, he or she can do it remotely;
It is rather easy for a local company to open a bank account in Serbia;
The company maintenance costs still remain notably lower in Serbia than in most other European states: electricity, telecommunication, office rent, accounting services, etc. are inexpensive;
The owner of the company registered in Serbia is entitled to apply for a permanent residence permit in the country;
Serbia is a candidate state to the EU;
This said, the country maintains friendly relationships not only with Europe but also with China, Russia, the USA, and other countries;
Serbian manufactures can sell their produce duty-free to the markets where over 1.1 billion potential consumers live: the EU, the US, Russia, China, and other states.
Company registration in Serbia: how to open a firm in Serbia
The most popular form of company ownership in Serbia is LLC (the Serbian abbreviation for this type of ownership is d.o.o.). The founders' liabilities are limited by the amounts of their respective contributions to the charter capital.
A foreign individual or a foreign legal entity can act as the company constitutor. With a Power of Attorney, the company can be established remotely.
The minimal required charter capital is 100 Serbian dinars (RSD), which is around 85 Eurocents. However, we highly recommend making the charter capital a bit larger.
A single person (or a single company) can be the company constitutor. The company can also have only one director who will be resident or non-resident of Serbia.
The corporate tax in Serbia is 15%, which is less than in most other European states.
The dividend tax in the country is also 15%.
The personal income tax varies between 0% and 15% and possibilities exist for up to 50% reduction.
Every Serbian company shall have a registered (i.e. legal) address. Keeping accounts is also mandatory. In addition to that, every company to be registered in Serbia shall provide a description of the intended business activities.
You can register a company in Serbia on a personal visit to the country. With the help of our Serbian office representative, you can complete all the major registration procedures within three or four business days.
If you would like to establish a company in Serbia without leaving home, you have to obtain a Power of Attorney that has to be legalized and translated into Serbian. This document is required both for company registration and for bank account opening.
If you already have a foreign company (in a traditional offshore jurisdiction, for example), you can set up its branch in Serbia. This procedure will take less time, it will let you keep your existing company, and set up a European bank account for its Serbian branch. Please follow this link to read more about this opportunity.
Please bear in mind that company registration in Serbia will provide legal grounds for obtaining a permanent resident status in the country. This status will let you spend as much time in Serbia as you wish and besides, it will let you become an EU citizen in the future, as investors are entitled to apply for full citizenship after holding the permanent residence permit for a few years. Just a short reminder: Serbia is planning to become an EU member soon.
In addition to that, a Serbian resident will have less trouble setting up a bank account in the country and his or her financial information will be better protected. Notwithstanding the fact that Serbia is a member of the automatic exchange of information group, it does not submit the information about its residents thus far. This does not apply to US citizens, however: every single country must inform on them in any case.
Company registration in Serbia: the required document package
Before you can establish a business company in Serbia, you have to prepare a package of documents that has to contain the following items:
The information about the prospective company owner including:

Legalized passport copies (domestic and foreign) for a natural person;
Corporate document package for a legal entity including personal documents of the company owner and director;

Prospective company director personal data: passport copy and proof of address;
Power of attorney for remote company registration (we will help you draw it up but you will have to have it apostilled);
Registration Certificate for a foreign legal entity;
Authorized signature form;
Charter capital starting from one Euro;
Registered legal address;
Description of business activities that the company plans to conduct.
All the documents need to be translated into Serbian and legalized.
The company registration procedure takes about seven business days.
When completing the documents, it is important to take into consideration the following factor: the documents must be completed the way the Registrar requires. We will supply the correctly completed samples to you that meet all the requirements.
If you want to ignore the sample and complete the form at your own discretion, you should realize that the risk of company registration denial will increase. If the Registrar turns your application down, you will have to collect the whole package again, as the Registrar does not return any documents. Thus, you will waste both time and money.
In order to avoid such an unpleasant situation please consult us in case any uncertainty arises that pertains to filling out the forms.
There is one more important aspect to remember. Your company must have a legal address and a contract with an accountant. We do provide these services among others. You are free to use some other company for these purposes but if you are going to do so, please inform us about it before we start the company registration process.
In case you use the services of other companies or professionals, please make sure that you are able to supply the following documents to us for company registration:
The form that permits using electronic accounting services;
The contract with an accountant;
Rent agreement for a legal address;
Activated electronic signature for the accountant.
The accountant is responsible for filing the annual reports including social security payments, pension fund contributions, and so on.
As soon as you provide these documents to us, the application package will be complete and we can send it to you for signing.
If you apply for the full package of services with us, you will receive all the necessary documents after you cover the cost of our services and we register a company in Serbia for you.
When your company and your corporate bank account are functional, you can still apply for the additional services that we provide such as rent of legal address and accounting support, for example.
In this case, however, you will have to cover the costs of these services on an hourly basis. To help you economize we suggest that you use one of the Concierge Packages described in the table below. A Concierge Services Package is a combination of foreign company maintenance services.
Concierge services Package
Basic

440 EUR per month

Medium

940 EUR per month

VIP

2,000 EUR per month

Company/ Branch legal address
V
V
V
Original documents storage, archive, scanning of the incoming mail, communication with the accountant (up to 5 e-mails or phone calls per month)
V
V
V
Communication with tax authorities, state agencies, and banks (up to five contacts per month)
V
V
V
2 hours of consultations or legal services
V
V
2 hours of miscellaneous services for you
V
V
1 additional hour of consultations
V
Transportat in the city for 2 days
V
3 hours for simple tasks
V
Unlimited assistance in the interaction with the accountant and state agencies
V
Corporate account opening for your Serbian company
You can set up a corporate bank account in Serbia without paying a personal visit to the country. This is only possible for local companies (and Serbian branches of foreign companies) owned by Serbian citizens or foreign nationals.
You will need the following documents to open a bank account in Serbia:
Power of Attorney;
Company owner's legalized passport copy and proof of address;
Corporate documents for the new Serbian company.
You will certainly be pleased to know that a state deposit insurance program is in place in Serbia and the insured amount is 50,000 EUR.
Opening a corporate bank account usually takes about one week but we always ask for some extra time to ensure the successful account opening. We will ask you to sign up to five different application forms in English in Serbian to go to different banks. We do it in order to save your time in case one or two banks deny service to your company. If this is the case, we will simply proceed with other banks.
The application documents that will go to the bank need to be signed by the company owner and/ or director. You can come to Serbia in order to do that or otherwise, we can send you the forms, you will sign them and send them back to us.
Our assistance in completing the application forms is included in the overall price of the service.
According to the Serbian legislation, if the company turnover exceeds 65,000 EUR per year, it has to register for the VAT. Consequently, there has to be a person who will sign the related documents. You can do it yourself after you obtain a permanent residence permit. Until then, however, you will have to have a Serbian resident do it for you.
Let us remind you that Serbia has joined the automatic exchange of information group and very soon, it will begin sharing its non-residents data with their national tax agencies. This move has allowed Serbia to leave the black and grey lists that the country was previously on.
A CRUCIALLY IMPORTANT POINT: you must be readily available if the bank administration wants to contact you especially about the first several transactions. The first transactions that you make will shape up your reputation with the bank. In case the bank administration has any questions about a transaction, they will want to contact you without any doubt. If you do not reply their questions within 24 hours, you will become a suspicious client. This particular transaction will be frozen and if they cannot reach you one or two more times later on, they will simply close your account.
In order to avoid this unpleasant situation we suggest that you make our Serbian office your trusted representative, or rather, a back-up contact. If the bank administration cannot reach you for some reason, they will be able to contact us and we will make sure that the transaction goes through. We do not charge anything for this service for the first few transactions. Afterwards, you can sign up for this service at a fixed price or just decline this offer.
The costs of company registration and maintenance in Serbia including opening the bank account
The price of company registration and account opening in Serbia starts at 10,999 EUR. This price includes the following:
Company registration with the state authorities;
Payment of state duties;
Opening a corporate account in a Serbian bank (we will prepare up to five applications to different banks);
Acquisition of Tax Identification Number (TIN) for the company;
Consultations and assistance in completing the forms;
Rent of company legal address for three months.
Additional costs that you will have to cover:
Limited Power of Attorney – 800 EUR;
Translation of documents into the Serbian language – 20 EUR per page.
Appointment of a Serbian resident as the signer of tax documents (if you wish to do that) – 1,000 EUR.
You can also become a Serbian resident yourself thus obtaining the right to sign these documents.
The annual company maintenance costs in Serbia start at 2,400. This includes the rent of the legal address (from 100 EUR per month) and accounting services (from 100 EUR per month).
Other services can be provided individually for an hourly pay or with a Family Office Package.
The procedure of remote registration of a business company in Serbia with a corporate bank account
Please place a request for this service with us by writing to

[email protected]

.
On our consultant's request, supply the necessary information for our inspection: we will need to see that we are able to provide the service to you indeed.
Cover the cost of our services. The basis price is 3800 EUR. All additional services will have to be agreed upon during our negotiations.
Supply the package of the required application documents.
After that, we start registering the company in Serbia for you.
When all the bureaucratic requirements have been satisfied, you can start doing business in a country with a rapidly developing economy.
We expect that you may want to ask us some questions prior to ordering our company registration and account opening services. If this is the case, please contact us at [email protected] without any hesitation. We will be happy to assist you in every way we can.
Tags
#Company Registration in Serbia
#Corporate Bank Account in Serbia
You are welcome to review other interesting articles on serbiawealth.info: