Registration of a foreign company branch in Serbia with an account in a local bank
Any company incorporated anywhere in the world can easily open a formal branch in the Republic of Serbia within just a few working days followed by a Serbian bank account.
Our clients who have existing offshore companies (BVI, Nevis, Marshall Islands etc), UK Limited companies, Scottish Limited Partnerships, USA LLCs etc have particularly benefited from this service and continue to do so. 
Why would a Serbian branch be of interest to existing offshore company owners? Basically it comes down to the two key things that all companies need today:  Substance  (proof of physical presence, bank accounts, tax number, physical office and staff etc) and Bank Accounts (access to commercial banking services at good quality, big name international banks). Serbia can be the ideal solution for these twin issues.
Read on to find out more details of our exclusive VIP concierge services that make establishing a branch and opening a bank account easy! We invite you to consider the possibility to establish a Serbian branch of your company and open a corporate bank account for it in the country. It does not matter if your company is registered in a classical offshore jurisdiction. The process of establishing the branch takes just a few days, and setting up a bank account takes from 1-2 weeks up to a few months.
The best of both worlds: Onshore and Offshore
As our lawyers proudly say, setting up a branch in Serbia of your foreign company grants you a VIP all-access pass to the best of both worlds: east and west, onshore and offshore.
A branch is registered on the Serbian Business Register, but without becoming a separate legal entity. 

The existing legal entity ("head office") carries on unchanged for existing purposes. There is no need to change ownership of real estate, bank accounts, shares etc. This aves a lot of headaches when 

The branch is treated the same as a local company so it can easily open Serbian bank accounts. Accounts are opened in the name of, and as the property of, the existing foreign company.

The branch keeps its own separate accounting records. Serbian tax is only payable on the profits booked to the branch. The branch has access to Serbia's wide network of tax treaties.

Payments from the head office to the branch are not taxable income because the funds are moving within the same company: therefore a branch can be used for internal treasury operations.

If the Branch is closed in the future, its assets of course still belong to the head office. There is no need for a complicated liquidation procedures.
Serbian Branch as a Practical Banking Solution
How does it work in practice?  Let's look at a problem, and a solution…
---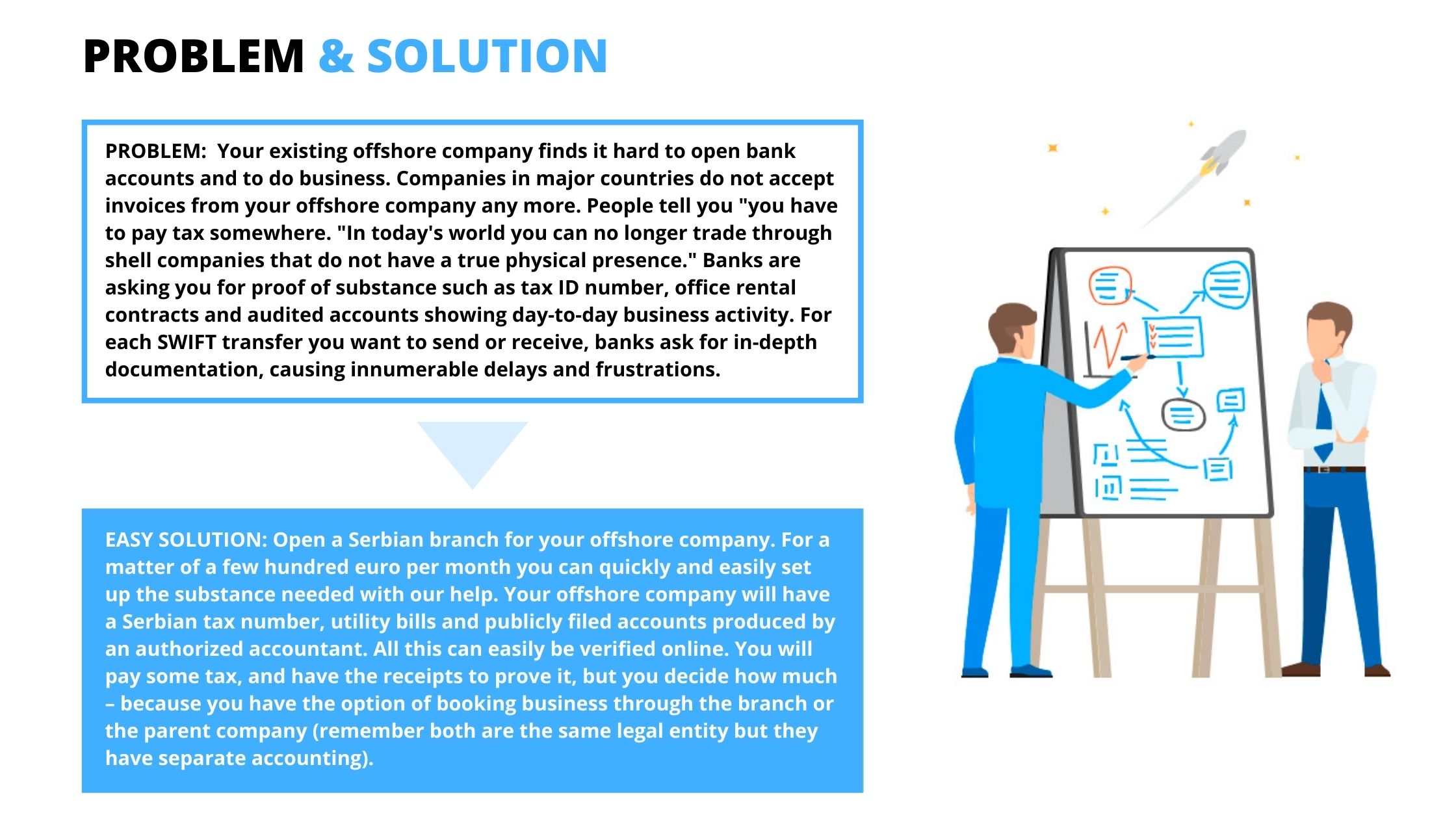 The Right to Be Left Alone
Of course, Serbia is not the only country where you could do this –  every European country allows foreign companies to register branches. However, consider that:
Costs in Serbia (for example accountancy services or office rental) are generally lower than other European countries

Serbian corporate taxes are some of the lowest in Europe

Serbia is a place where the "right to be left alone" is still respected. If you comply with legal requirements, people are happy. Compare this to other European countries where you might well find unjust discrimination for political reasons against foreign companies, especially those that are perceived as coming from 'offshore.'

In Serbia, wealthy foreign investors are encouraged to contribute to the national economy. Compare this to how wealthy foreigners owners are being targeted and vilified for political reasons in UK, France, Spain etc.
Which Commercial Banks are Available in Serbia?
Your Serbian branch will benefit from full access to major international banks via its multi-currency IBAN from Serbia. Because you are dealing with major banks in a European country, the documentation requirements are much less and banks reliably stick to deadlines for processing payments.
We would not like to mislead you and say account opening is easy, because it is not. As everywhere else, the choice of bank depends on the business and transactional model of the business, the background of its management and owners, and many other factors. Not all banks will be suitable for all clients.
Banks in Serbia that in principle will consider applications from branches of offshore companies include such major brands as Addiko, Erste Bank, Credit Agricole, UniCredit, Intesa, Raifeissen, Halkbank, Bank of China, Mirabank, OTP Bank, NLB Bank, Sberbank and more. As you can see, there are a range of regional and European banks including those from Turkey, UAE, Russia and China.
For further information please see our article on Opening a Bank Account in Serbia.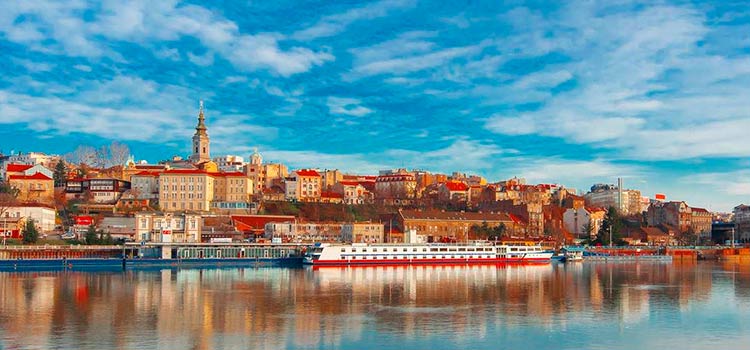 Documents required for registering a foreign company branch in Serbia
In order to establish a company branch in Serbia you will need to collect some or all of the following documents:
Certified copy of the document of the parent company that are not older than three months and apostilled – it is also best to bring the originals with you. The exact list of required corporate documents depends on the country of incorporation, but don't worry we will advise you on this as soon as you start the process with us. To give you an idea, it will typically be Certificate of Incorporation, Certificate of Incumbency, Good Standing or Registry Extract, Memorandum and Articles of Association, copies of share certificates etc.
Service agreement if you are using a local director service.
Agreement on use of Registered Office in Serbia
Serbian Business Registry forms for establishment of the branch – we will supply the forms to you and you will complete them under our guidance and send them back to us
Passport copies for all Directors, Shareholders and UBOs;
A legalized limited power of attorney for branch establishment;
Copy of the foreign company's resolution on establishing a branch in Serbia (we will supply draft wording)
A completed form signed by the parent company consenting to bear responsibility for the full liabilities of its Serbian branch;
A document confirming that the parent company has an account with a bank or financial institution in another country – not older than one month. Does not need to be legalized. 
All the documents will have to be officially translated into the Serbian language. We will take care of this for you directly here in Belgrade. The cost varies as the official translators charge by the word, but don't worry – it is not expensive! We can bill this and other small local expenses directly to your branch after it is set up, to avoid any delays.
Branch Concierge Services
Just like in most other countries, a branch in Serbia shall have an official registered address and keep financial records. Accounting services are usually negotiated at a flat monthly fee, including the annual return. You should budget around 100 euros per month, but the final cost will depend on the volume of transactions. Obviously, if you need extra accounting expertise for specific operations, there will be additional costs or you might want to hire one of the big four international consulting firms.
Besides this, we are sure you will understand that – as with any business anywhere in the world – there are always the "little things" that need to be taken care of. That could mean answering a letter from a government department, dealing with a credit reference agency like Dun and Bradstreet that is checking out your business, opening and scanning a package received from DHL, handling an unexpected phone call or walk in client, or thousands of other little daily business tasks that a real company with real substance has to deal with.
Our 'Branch Concierge' services are designed for the discerning client who would like to have 'all bases covered' and prefers to budget a fixed price rather than pay hourly rates.
In particular, we can assist you in interacting with tax and regulatory authorities and other state agencies in Serbia. The price of each individual service is sure to be lower if you buy a package of our Branch Concierge services. There are three alternative packages to choose from. Please find their descriptions in the table below.
Concierge services Package
Basic       

 

 

 

250 EUR per month

Medium       

 

 

 

500 EUR per month

VIP       

 

 

 

900 EUR per month

Branch registered address
V
V
V
Original documents storage, archive, scanning of the incoming messages, communication with accountant (up to 5 e-mails or phone calls per month)
V
V
V
Communication with tax authorities, state agencies, and banks (up to five contacts per month)
V
V
V
2 hours of consultations or legal services  (qualified English-speaking Serbian lawyer)
 
V
V
2 hours of miscellaneous services (post office/courier services, market research, interpreters etc)
 
V
V
1 additional hour of consultations (qualified international business consultant)
 
 
V
Transportation in the city for 2 days
 
 
V
Unlimited but reasonable simple tasks (post office/courier services, market research, interpreters etc)
 
 
V
Unlimited assistance in the interaction with the accountant and state agencies
 
 
V
Serbian branch registration and maintenance costs
The total price of company branch registration and bank account opening in Serbia is from 4500 EUR plus tax. The following services are included in the package:
Registration of the Serbian branch
Payment of state duties
TIN acquisition
Overseeing translation of documents
Consultations and assistance during your initial visit to Belgrade.
Serbian branch annual maintenance costs:
The legal address (mandatory) – from 100 EUR per month or 1,200 EUR per year;
Accounting records (mandatory) – from 100 EUR per month or 1,200 EUR per year (the ultimate price will depend on the volume of work to be done).
Additional Substance: Office and Employee
It would be sensible to rent a physical office space (that could also double as your legal address) and hire a person, part or full time, to work for the Serbian branch in order to enhance the company economic substance – or physical presence – in the country.  This is not 100% essential, but we believe most clients will find it desirable and beneficial in the longer term.
The good news is that instead of costing you money, this could well end up saving you money. It is likely that your business already needs some sort of admin help – like remote personal assistant, SEO specialist, social media manager, programmer etc. We have found that most clients are pleasantly surprised by the cost, education, skills and quality of the Serbian workforce.
Step-by-Step Process
1
Please write an e-mail [email protected] with "New Serbia Branch Registration" in the subject line. Please provide basic details of yourself and the company that will be opening the branch, together with a convenient time to contact you.
2
We will schedule a Zoom meeting or communicate with you by email on the next steps, as you prefer and at your convenience.
3
Make a deposit payment for the cost of the service. We will discuss additional services with you including the post-registration company maintenance service.
You can pay with a credit card, bank transfer, or via WebMoney, Western Union, MoneyGram, or crypto.
Today Serbia offers truly unique conditions to foreign business people. You can learn more about the opportunities available in this country and ask any questions in relation to our services by writing to [email protected]. Alternatively, text us or give us a call.
We are looking forward to hearing from you, and to welcoming you to Belgrade whether virtually or in person!
How can I add additional substance?
If you want to add more substance to your business, you can hire local staff in Serbia and outsource functions of your company there. Serbia has a well-educated workforce with great English skills and an international outlook, all at a low cost base. Serbia is particularly strong in IT but you can also outsource almost any function: book-keeping, call centre, HR etc.
If you hire Serbian residents for work in your company branch, they have to be registered with the insurance fund, the pension fund, and the social security fund.
Why should you register a company or a branch in Serbia?
Serbia is located on the Balkan Peninsula and it is referred to as the economic center of the region more and more often. There are several good reasons for this:
– The country's economy is growing and the public welfare is improving;
– International organizations including World Bank take Serbia very seriously;
– Considerable investments come to the country from the EU, China, the US, and Russia;
– Serbian authorities are open for cooperation and they keep their international economic policies maximally neutral; 
– The authorities follow the policy of private business support offering favorable conditions for its development in Special Economic Zones in particular;
– Serbia has a pragmatic and transparent national legislation.
These factors incentivise foreign investors to bring capital to the country. And big money always means big opportunities!
So what would you say are the major advantages of opening a branch in Serbia?
Below please find an incomplete list of advantages that you can make use of by registering a Serbian branch of your (offshore) company:
– First, you can establish a Serbian branch of any company including one registered in an offshore jurisdiction;
– The branch will set up an account in a local bank, which means that you will have a bank account in Europe that your offshore company can legally use;
– The branch maintenance cost is low in Serbia: starting from 100 EUR per month for rent of official address and another 100 EUR per month for accounting services;
– You can open a branch without paying a personal visit to Serbia;
– The branch receives its own TIN (Taxpayer Identification Number) when it is registered with the Serbian Registrar
– You can manage the branch from anywhere in the world without having to live in Serbia
– At the same time, we recommend that you apply for a permanent residence permit in Serbia especially with the view of the fact that the branch establishment entitles the investor to do so;
– Serbia is planning to join the EU in the future;
– Serbian authorities have signed over 50 agreements on avoidance of double taxation and they have also made free trade agreements that provide for duty-free trade in the market where 1.1 billion potential consumers reside;
– Serbia has a well-developed banking sector and great experience in the use of various financial instruments;
– Serbia has joined the automatic exchange of information group, which has allowed it to leave the black lists and improve its international reputation. See our article on Serbia CRS and Automatic Exchange of Information.
– Your parent company funds can be transferred to its Serbian branch account.
The corporate tax in Serbia is 15% but you can lower the effective tax rate by intelligently interacting with the parent company.  
Would it be smart to acquire legal residency in Serbia at the same time?
Absolutely! Acquiring legal residency in Serbia would be a wise thing to do. When you are setting up a branch is also a perfect time to do it, because you can use the new branch to qualify for residence as a foreign investor.  This will let you use the double taxation avoidance agreements for you private purposes and become a resident of a European country. Establishing a foreign company branch in Serbia, registering a new company or purchasing real estate in the country are just some of the ways of obtaining a Serbian permanent residence permit.
Legal residents have less trouble setting up personal and corporate bank accounts in the country. Besides, Serbia does not automatically exchange financial (nor any other) information about its residents.
What if my Foreign Company does not have a bank account abroad?
Sometimes, people wait until it is too late to establish redundancy in their banking operations. We have had clients who are looking to open a branch in Serbia for fast access to international bank accounts, for the simple reason that their one and only bank outside the country has decided to close the account.
Before you can set up a bank account in Serbia, you will have to show that your parent company has an account in a foreign financial institution. So this could create a chicken and egg situation.
If for some reason you do not have an account, you should not worry about it, as we know how to solve this problem. We can open an account for your company with a bank or a payment system somewhere else in the world.
Are Bank Deposits in Serbia insured?
Yes. All deposits in Serbian banks are government insured. Any client is guaranteed a payment of up to 50,000 EUR even if the bank collapses.
In practice, most banks are parts of well capitalised international groups that would be sure to bail out their foreign subsidiaries in the case of any trouble. The others are often implicitly in the "too big to fail" category – for example the massive Postal Savings Bank is majority owned by the Serbian government and has been in business for over a hundred years.
Serbia has a strong economy so we don't believe the risk of bank failure is something our clients need to worry about.
What if the bank in Serbia asks for information on my transactions?
It is crucially important to respond to the bank quickly and supply the documents certifying the legality of the deal. Understandably, there may be situations when you cannot respond in a timely manner when you are unwell or on vacation, for instance. However, these are going to be lame excuses for the bank. In any case, there is a good solution.  
We provide for an opportunity to use our Serbian office as a back-up contact for the bank. If the bank fails to get in touch with you, it can contact our company and we will do everything possible to make sure that the transaction goes through and your reputation with the bank does not suffer. This service is free of charge for those using our Concierge Services.