Purchase a ready-made company in Serbia
Would you would like to purchase a ready-made shelf company with a bank account already set up? Here in Serbia we offer this service. It is much simpler to make this purchase in Serbia than in many other countries. We will be happy to help you strike the deal.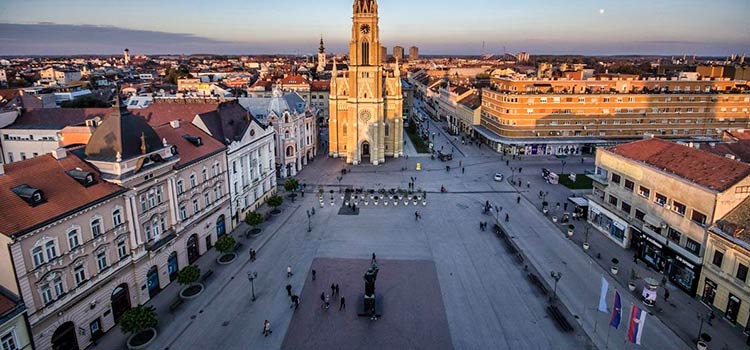 You can buy a ready-made company in Serbia on a personal visit to the country, or remotely by issuing a Power of Attorney.
Buying a shelf company in Serbia: what are the benefits?
A Ready-Made or 'Shelf' Company is an already existing company with a bank account, that is ready to start trading today. It is called a 'shelf' company because these companies are kept in stock, on the shelf, ready to take over.
If you want to sign a business deal today but you don't have a company yet… then a shelf company is the solution. Call us now and the company can be yours this afternoon. The shelf company is already registered and already exists as a separate legal entity, with a Serbian resident director and a bank account in Serbia already open.
All we need to do is complete the purchase/sale agreement with you, change the director (or you can hire the existing local director to keep managing the company), and inform the bank of the changes. But any deals already agreed continue to be valid as the company is a separate legal entity.
Purchasing a shelf company has some undeniable advantages – principally the speed. As we said above, you can email, text or call us today, and take over the company so you can sign a contract in the company name the very same day.
Obviously the formal procedures in the banks and business registry will take a bit longer, but the legal existence of the company today and indeed even yesterday is assured.
Here are some of the key benefits of a ready-made shelf company with bank account in Serbia:
The speed: buying a ready-made company in Serbia allows gaining access to the company within 1-2 hours, and the bank account some days later;
The Serbian shelf company has a functional bank account that you can keep if you follow some basic compliance rules;
Buying a shelf company in Serbia costs a little more than establishing a new company in Serbia one but it takes less time;
When purchasing a ready-made shelf company in Serbia, the investor acquires the right to apply for a Serbian residence permit immediately;
Company maintenance in Serbia costs less than in practically any other European country – starting from just 200 EUR per month;
Serbia maintains friendly working relationships with such diverse international partners as the EU (that it plans to join soon), Russia, China, the USA, and other countries;
All in all, Serbia is a well-developed business jurisdiction that provides for vast opportunities, has great commercial experience, beneficial taxation system, and government incentives to encourage foreign investment. And… it costs comparatively less to do business in Serbia!
We would like to put some emphasis on the possibility to become a legal resident of Serbia. We do recommend that you avail yourself of this opportunity, as this is what a foreign business investor is eligible to do. This status will not only allow residing in Serbia indefinitely (or as much or as little as you want) but it will also facilitate communication with the local banks. A legal resident will always have less trouble setting up a bank account than a non-resident.
Buy a ready-made Serbian company with its bank account already opened
Today you can purchase a Ready Made Private Company in Serbia. (The Serbian abbreviation for this form of company ownership is doo.) This is by far the most popular type of company ownership in the country. The shareholders' liabilities are limited by their respective contributions to the company registered capital. Here are some of the features:
The registered capital can be as little as one Euro. One or more persons or legal entities can act as the company founder. The founder can be a resident or a non-resident of Serbia.
The company can have one or more directors, whose duties may be performed by the company UBO.
The corporate tax in Serbia is 15%, same as the dividend tax.
The country has signed over fifty treaties on double taxation avoidance.
The law requires that every business company in Serbia have a registered (legal) address and of course each company must keep financial records.
A Serbian company is entitled to open local and foreign bank accounts. The shelf company that we are bringing for your consideration already has a multi-currency account in a Serbian bank but we can also help you set up additional accounts in various banks of the world.
To become the owner of the company you can visit Serbia in person and reregister the company in your name with the country authorities. If you can't travel, you can issue a Power of Attorney and let us do the purchase and the registration for you – or you can simply leavethe ownership and management in the name of our local trustees and professional directors who will hold the assets in their names on your behalf. The choice is entirely yours!
The company ownership status has to be updated with the Serbian Trade Registry within one month. Over this time period, you will have a free remote company management service from us.
If for some reason you fail to keep within the timeframe specified above, you can extend the fiduciary management service for a reasonable fee.
List of documents required for purchasing a shelf company with a bank account in Serbia
To begin with, please tell us your name and place of residence. Then, when it comes to transferring the company ownership to your name, you will need to submit the following:
A passport copy and a proof of address for a private individual
A package of apostilled corporate documents for a legal entity.
You send us the documents, we have them translated into Serbian, and pass them on to the Registrar. The entire process will take between 7 and 14 business days. Afterwards, the documents will have to go to the bank for a due diligence check.
In addition to that, the following documents will be required:
A special form that permits the use of electronic accounting services for the accountant to prepare and file the reports;
A rent agreement for the legal address;
A service agreement with the accountant;
An activated digital signature for the accountant.
You can obtain these documents from us or from other companies. We will have to discuss how you want to proceed before launching the process of shelf company purchase.
Notwithstanding the fact that the bank account will be already functional, we will have to coordinate with you and with the bank for the first few transactions. If the bank officer has questions regarding a certain transaction, he or she will want to contact you. It is important to be able to answer the questions from the bank within 24 hours. This will allow preserving your good reputation with the bank and make your communication with its officers easier in the future.
If you feel that you may not be available for an urgent talk with the bank administration, we suggest that you use our Serbia office as a 'spare tyre' or as a back-up contact point. If the bank cannot get hold of you, it can contact us and we will make sure that your transaction goes through. At the initial stage of your company operations, this service is free of charge.
The cost of purchasing a ready-made company in Serbia with a functional bank account
The total price of this service starts at 12000 EUR. The price includes the following:
Purchase of the company that has a bank account;
One month of fiduciary management services until you reregister the company in your name;
Assistance in the reregistration process.
You may also have to incur some additional costs:
Translation into Serbian – approx 20 EUR per page;
The costs of a personal visit to Serbia if you choose to sign directly on the bank account yourself.
Your monthly company maintenance expenditures are estimated at 200 Euros. This includes the required rent of registered office address and accounting services.
We also recommend that you apply for the Concierge service that we provide.
If
What you should do to buy a ready-made company with a bank account in Serbia
Inform us of your desire to do so by writing to

[email protected]

. Please write "Serbia Ready Made Company" in the subject line. If it is especially urgent, contact us by phone or live chat.
We will reply by email with details of the available company names. Typically 2-3 are available on the shelf at any one time.
Tell us your preferred company name and we will reserve it for you. (Later we can also process a company name change if you wish) Provide your personal data to us so that we can put a contract together.
To reserve the company that you want to buy pay 1,000 EUR immediately and pay the rest of the purchase price within seven days.
The payment can be made by a bank transfer or a credit card. We also accept payments made through Western Union, MoneyGram, WebMoney, or Bitcoin.
A new ready-made business company is only a few days away from you! Place your order or ask us for any additional information and clarifications from Offshore Pro Group at [email protected]. Take this wonderful chance while it is available!