Register a UAE company branch in Serbia with a bank account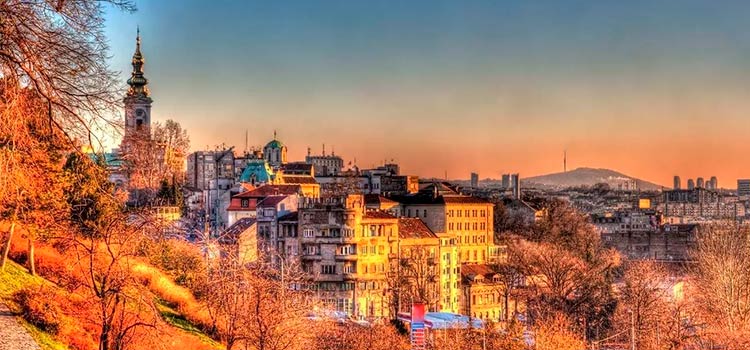 If you have a company registered in the United Arab Emirates, you may be interested in establishing its branch in Serbia and opening a corporate bank account here. You can do it either remotely, or on a personal visit to Serbia if you wish.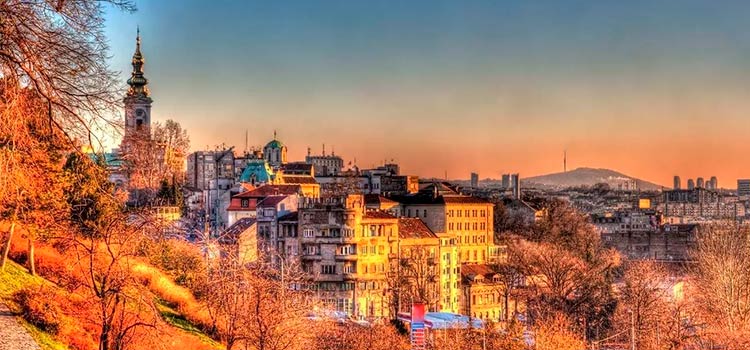 An important note: It is possible to register an UAE company branch in Serbia even if yours is an offshore-type company. In other words, we are offering a unique opportunity to set up an office in Europe and an account in a European bank for your UAE registered company.
The process of establishing the branch and opening the account can take as long as a couple of months. The procedure will go smoother and faster, however, for a legal resident of Serbia and we can assist you in becoming one as well.
Serbia as the best jurisdiction for a European branch of your foreign company
Over the recent years, Serbia has transformed significantly and become much more attractive for international business corporations. The opportunities that the country offers today make foreign investors bring more and more money to the Serbian economy. Thus, the snowball effect is currently in action: the more investments are coming to the country, the more new opportunities arise. Serbia benefits immensely from its economic policies and foreign investors also reap good fruit there.
The Government of Serbia pursues open market policies and it sees its role in stimulating and promoting small- and medium-size business development and attracting more foreign investments to the country. Thus, Serbia has become a target country not only for European investors but also for those from the USA, South-East Asia, and post-Soviet states.
Lately, Serbia has turned into a unique country indeed. Its economy is growing and it is determined to become an EU member one day. This goal has made Serbian authorities reconsider many social policies and financial regulations.
Serbia is trying very hard to come up to the European standards and serve international business interests. It is building a strong economic base and offering serious incentives that help find optimal business solutions. One of such incentives is the possibility to establish a Serbian branch of a foreign company and set up a corporate account for it in the country.
The combination of the following three factors makes Serbia the best country to do business in without exaggeration:
Economic attractiveness. Taxes in Serbia are lower than in other European countries as the Government is interested in attracting more foreign investments;
Business maintenance costs are comparatively lower in Serbia as the rent, electricity, labor, and other costs are smaller in the country;
Promising future. Serbia is going to join the EU one day, which will open even more opportunities for businesses operating there.
So, what would your company acquire by establishing presence in Serbia? Here are the main points:
You will set up a European representative office in Serbia (with everything it implies) and, what is even more important, an account in a European bank;
You will acquire a business unit in a reputable "white" jurisdiction as Serbia has been scratched off all the 'black' and 'grey' list of unreliable countries. This fact will enhance the competitiveness of your company, as it will make it more respectable in the eyes of your business partners, clients, and other counteragents. Please bear in mind that your Serbian branch will have its own TIN (Tax Identification Number) even though it will conduct business on behalf of the parent company;
The local authorities will be supportive for the reasons given above, you will have vast opportunities for doing business in the country including its Free Economic Zones;
Your Serbian branch will be attractive for foreign investors as business corporations from all over the world are interested in bringing money to the country;
Local banks that work by the EU standards will not only offer you a wide range of financial solutions but also provide for asset optimization as well as investment opportunities;
Serbia has made over fifty agreements on avoidance of double taxation and signed a number of duty-free trade treaties. This means that your business in this country will have secure legal protection and an opportunity to enter most promising markets. This is especially true if your business is connected with trade in physical goods. On top of that, Serbia has recently joined the UN Singapore Convention on Mediation, which is one more step towards international integration;
You will also be able to manage your Serbian business remotely even though you do have to establish physical presence (acquire 'economic substance') in the country;
You will have access to qualified workforce while salaries in Serbia are still considerably lower than in other European states. In addition to that, office rent and other necessary business maintenance expenditures are not so high;
And of course, your branch will work under a very democratic taxation system. The corporate tax and the dividend tax are 15% each in Serbia. The personal income tax is between 0% and 15% depending on the amount of income. There are also tax deduction opportunities that may come up to 50%.
Use the unique opportunity to open a corporate bank account for the Serbian branch of your UAE company
As we have said above, together with the Serbian branch of your UAE company, you obtain an account in a local (European!) bank. Even if you have an offshore company, this opportunity is available to you. You must agree that his chance is a precious one. Far from all banks will open non-resident accounts for such companies especially if no professional intermediaries are involved in the negotiation process. Today, this problem is almost unsolvable for many companies registered in 'grey' jurisdictions.
This fact should make our services especially valuable. We can help your UAE company acquire a European reputation and a respectable bank account. The branch can be registered rather fast in Serbia but setting up a bank account is going to take some considerable time, probably, up to two months. However, this time is nothing in comparison to the advantages that you will gain.
Apart from that, we invite you to consider the opportunity to acquire legal residency in Serbia. In addition to all other benefits that this move will bring, it will facilitate and accelerate the account opening process. Another weighty reason to acquire a Serbian residence permit is the fact that Serbia does not automatically exchange its residents' financial information even though it does so with foreigners who have accounts in Serbian banks.
Let us also remind you that a permanent resident status can eventually turn into a full citizenship in Serbia, which means that you can become an EU citizen in the near future. As things stand for now, Serbia is planning to join the European Union, and the formation of your company Serbian branch will constitute a legal foundation for applying for a permanent residence permit in the country.
Naturally, you have to give this issue serious consideration but in any event, we can help you with acquiring legal residency in Serbia. Please contact our consultants at info@offshore-pro.info if you have any questions related to this matter.
You do not have to visit Serbia in order to set up a branch here. Instead, you have to obtain a Power of Attorney that will let us do it for you.
When opening a corporate account for your Serbian branch, you have to meet several essential conditions:
You have to provide confirmation of the fact that your parent company does have an account (that is, supply a document from the bank or the payment system you use that confirms the existence of your account there).
If for some unknown reason your UAE company does not have an account, we will gladly help you solve this problem (i.e. open an account for you with a bank or with a payment system).
In a bid to follow the CRS regulations, Serbian banks will keep a close eye on their clients' transactions, especially the first few ones.
It is important to handle this matter with great care, as the bank will want you to confirm the legality of your transactions. You have to keep in touch with the bank administration and be able to answer their queries within 24 hours. If you do not answer them, the bank will 'freeze' your transaction.
If you let this 'lack-of-contact' situation happen regularly, you will be put on the unreliable clients list first and maybe even denied service.
This is no joke and we seriously recommend that you use our Serbian office as a reserve point of contact for the bank. In case the bank manager cannot reach you for some reason, he or she can contact our office and we will answer all the questions for you. This will guarantee that your transaction is not frozen. This service is free of charge for the first few transactions. Later on, you can decide if you want to keep this opportunity at a fixed price or handle everything on your own.
When the account turnover exceeds 65,000 EUR per year, you will have to start filing VAT reports. These need to be signed by you or by the person you delegate this right to. One exception to this rule is the case when the transfer comes from the parent company. If you wish, you can transfer all your UAE company funds to its Serbian branch account without any additional obligations.
The necessary requirements that your company Serbian branch has to meet
All Serbian companies and foreign branches in the country must have a legal address in Serbia. Besides, they all must keep the books, conduct audit, and file regular financial reports.
These two requirements entail annual company maintenance expenditures of minimum 1,200 EUR each.
If you are planning to hire personnel in Serbia (which will enhance your company 'substance', by the way), you have to remember about their social security and pension fund payments. The social security payment, for example, is 19,9% of the employee's salary.
In the course of your business activities in Serbia, you will have to converse with government agencies and tax authorities. We can provide corresponding services to you or you can handle the matter by yourself. Whatever your intentions are, we have to clarify this issue from the very beginning, before we start registering the branch for you. This is not only the question of the service cost but also of the organizational procedures.
We can facilitate the maintenance of your UAE company Serbian branch and help you save time and money by providing a special service called 'Concierge.
Concierge services Package
Basic

250 EUR per month

Medium

450 EUR per month

VIP

900 EUR per month

Company/ Branch legal address
V
V
V
Original documents storage, archive, scanning of the incoming mail, communication with the accountant (up to 5 e-mails or phone calls per month)
V
V
V
Communication with tax authorities, state agencies, and banks (up to five contacts per month)
V
V
V
2 hours of consultations or legal services
V
V
2 hours of miscellaneous services for you
V
V
1 additional hour of consultations
V
Transportat in the city for 2 days
V
3 hours for simple tasks
V
Unlimited assistance in the interaction with the accountant and state agencies
V
You do not have to apply for the Concierge service but we suggest that you give this opportunity some thinking because it will really take some mundane tasks off your hands.
Important: If you decline this offer at first but want to use the services later, you will have to pay for them by the hour.
Opening an UAE company branch in Serbia with a bank account: the required documents
In order to register a Serbian branch of your UAE company you will have to submit several personal and corporate documents.
Corporate document package:
Two copies of the Certificate of Incorporation legalized for use in Serbia for the Registrar and the bank. The copies have to be apostilled not earlier than three months ago;
Two copies of the Certificate of Incumbency legalized for use in Serbia and the company owners' names indicated. The copies have to be apostilled not earlier than three months ago;
Important: in the UAE, the documents mentioned above may have different titles depending on the Emirate. In Gebel-Ali (Dubai), for instance, the Certificate of Incumbency may be called 'Letter of Incumbency'. However, the main requirement is that the documents contain the necessary information: the date of company registration in the UAE and its registration number, the names of the owners and the directors, the number of shares each of them holds.
Certificate of Good Standing;
Nominee service agreement if applicable;
An extract from the Corporate Registry;
A Resolution on establishment of a Serbian branch of the UAE company (we will supply a sample of such Resolution to you, you will fill it in and send it back to us by mail);
Consent of the authorized company officers to bear the responsibilities of managing the Serbian branch of your UAE company (again, we will give you a sample of this document);
A confirmation of the UAE company account from the bank or the payment system not more than one month old (preferably with a stamp and a signature of the bank or payment system officer);
A notarized limited Power of Attorney authorizing us to open your company branch in Serbia;
Personal document package:
Legalized copies of passports of all company proprietors;
Proofs of addresses for all company proprietors.
Important: all the documents have to be translated into Serbian and translations certified. As apostilles are not used in the UAE, you or your representative will have to visit the Serbian Embassy in Abu-Dhabi.
The Embassy address is Mushref area, sector W31, Al Rafee street, Villa number 06. The Embassy website can be found here.
We would also like to draw your attention to the fact that the looks of all the forms and other documents must meet the Serbian Registrar's requirements.
What you have to do to register a Serbian branch of your UAE company and open a bank account in Serbia
For your UAE company to acquire a new powerful business instrument in Europe, you will have to do the following:
Place a request for this service with us by writing to info@offshore-pro.info. Please write "Serbian Branch of UAE Company" in the subject line.
Supply the documents that our specialist will ask so that we can be sure that we are able to provide this service to you.
Cover the cost of the service. Please discuss this matter with our specialist from the start!
The payment can be made by a bank transfer, a credit card, or any payment system of your choice such as Money Gram, Western Union, Web Money, or Bitcoin.
4. Submit the complete package of documents. After we receive all the necessary documents (and the payment), we will launch the procedure of your company branch registration in Serbia and bank account opening.
5. Banks require that the prospective client sign the application documents by hand. You can travel to Serbia and do it on site or we can send you the documents for signing and you will then send them back to us.
6. After one to two months, you will have the Serbian branch of your company operative and a corporate account opened with a local bank.
To learn more about the opportunity that we are offering please contact us at info@offshore-pro.info. We will be happy to serve you.
Tags
#Company Registration in Serbia
You are welcome to review other interesting articles on serbiawealth.info: